Home
Welcome to the website of the Blueskin Resilient Communities Trust (BRCT).
We work on creating local climate solutions together. Our company, Blueskin Energy Limited, is working on establishing our proposed Blueskin Turbine embedded in the local grid. We want to make what is commonplace in other countries possible in New Zealand. Our Climate Safe House project is a response to sea-level rise in Blueskin Bay and the wider area. BRCT is an IRD approved charitable trust formed in 2008 out of the need to support local sustainability and climate change initiatives in a planned and structured way.  We offer practical services, provide key support, have robust resources, lead innovative projects and provide expert advocacy. Check out our 2017 projects below and our 2016 success stories at the bottom of this page. 

Alongside our work on our Blueskin Turbine, we do a great many things.
Cosy Energy Advice Line (Local Call:
03 929 1323
)
•    We provide a free phone/email advice service open to the wider Dunedin community regarding home heating, insulation, energy efficient lighting, etc.
•    Our advice is
independent
, and not influenced by selling products.
Firewood Programme
•    We offer bulk sales of logs to be processed for firewood
•    This is a lower-cost option for communities, charities, social organisations, etc.
Affordable insulation
•    We offer discounted quality insulation for residents prepared to do the installation themselves.
•    This is a low-cost option for DIYers, landlords and social organisations, etc.
Cosy Home Assessments
•    We maintain a Dunedin wide
service
delivering independent expert assessments, appraisals and reports on their home performance to Dunedin residents.
•    We work with other social agencies to help support residents make their homes warm and cosy.
Healthy Rental Certification
•    We help landlords ensure compliance with the new requirements under the Residential Tenancies Act.
•    We give landlords and tenants the
information
they need to fix any issues and information on available subsidies.
Community office
•    We are a drop in centre for advice and support.
•    We work with individuals to catalyse community actions.
•    We provide community newsletters and articles each month.
•    We maintain a
Local Food Directory
to support local food initiatives.
•    We help to coordinate actions and develop collaboration to join up skills and build cooperate effort.
We are proud that Jeanette, our Patron, expresses so succinctly what we're about.
Current Project News in 2017 - February/March

Our Blueskin Turbine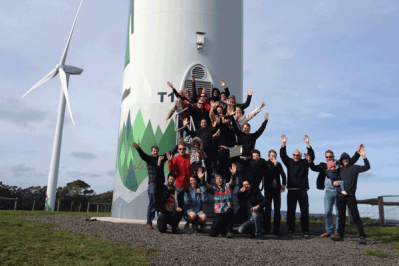 The New Zealand government has set a target of 90% renewable electricity generation by 2025. However the Ministry for Business, Innovation and Employment has modeled five Electricity Demand and Generation Scenarios (EDGS) and has reached the conclusion that the 90% renewable electricity target will not be reached by 2025. But we believe it can be reached, and that in fact we can do better.
 Everything would be easier of course with a plan from central government. But in the absence of that a number of grass-roots organisations like ours are exploring options for community scale renewables. You can call us the The "Yes In My Front Yard" people: we want to see more community scale renewable electricity generation. When the source of the electricity is close to the users the waste that occurs when electricity is shunted up and down the country is minimised.
The "Yes In My Front Yard" approach has plenty of positive examples overseas. While our proposed Blueskin turbine is a New Zealand first, we are way behind the international scene where small scale community wind is just another part of the renewable energy landscape. But if our proposed Blueskin turbine can be the catalyst for other community projects, the incremental growth in community scale renewable generation could challenge the economic viability of thermal electricity generation plants like Huntly. Together we can be a major contributor to achieving the government target. The Environment Court process continues through March. We will continue to post updates on the Blueskin Energy website: http://www.blueskinenergy.co.nz/ , on  Facebook and Twitter : we like social media! Email us at office@brct.org.nz or call us on 4822048 - we love to hear from you. The photo by the way is from the Hepburn Community Wind Farm in Australia.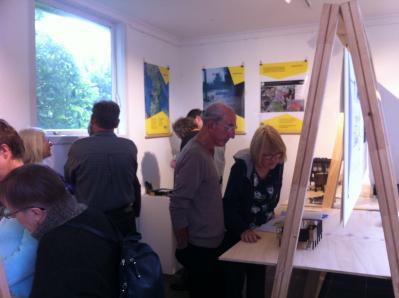 From the office
We had a great turnout at the opening of the Climate Safe House exhibition at the Gallery on Blueskin on the 19th of Feb. Over the two weeks of the exhibition in place, the Gallery was busy, and we received a good number of responses on the designs, as well as interest in the tiny/small house concept that is just as applicable in zones that are not at flood risk.
As you can imagine, the Climate Safe House project has kept us excited and busy. We're also surveying residents in the proposed hazard zones some of whom have received Home Performance Assessments at no cost to them. If you too would like a Home Performance Assessment and you're in the proposed flood zone, contact us. Interviews with residents in the proposed hazard areas are also underway. There's been some cross-over with our normal work too, as demand for Home Performance Assessments has grown, partly as a result of the Climate Safe House project. Our HPA team are working hard to clear a backlog of requests.
We prepared and submitted a submission on the government's draft Energy Efficiency and Conservation Strategy. It's hard, tiring but important work as energy efficiency and energy productivity will help us move towards a low-emission society. You can find a copy of our submission here.
If you want to make a donation to assist our work follow the link or email BRCT at office@brct.org.nz, or Donate using internet banking via the website. Donations are tax deductible so please make sure we have your name and address and can thank you!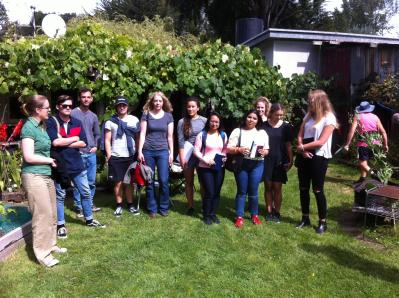 Climate Safe Housing
Enphase, a sponsor of the Climate Safe House project, designs and manufactures software-driven home energy solutions that span solar generation, energy storage and web-based monitoring and control. Its Research and Development centre in Christchurch has developed micro-inverter technology together with engineers at Enphase's California HQ. This technology is spread around more than 100 countries. The sponsorship deal we have with Enphase will demonstrate the potential for great energy productivity at a household level. In other words, how to get more value from the same or a smaller amount of energy. This is just one example of the exciting potential to reduce household greenhouse gas emissions while adapting to our changing climate.
We don't have time to be complacent. The climate is changing due to the release of greenhouse gas emissions through human activity. Water expands as it warms (thermal expansion) and glaciers and ice sheets begin to liquify in a warming world. This leads to rising sea-levels, and more extreme and erratic weather. We must adapt to our changing world while reducing our impact.

That's why we're excited to be working with the Otago Polytechnic on the design for a Climate Safe House, and we had a great visit from students recently to discuss design parameters and consider the complexity of issues. The research and design involving community is wonderfully collaborative learning environment for all, as explained in this article. It is a story of Community, Collaboration and Climate Solutions.

Our Successes in 2016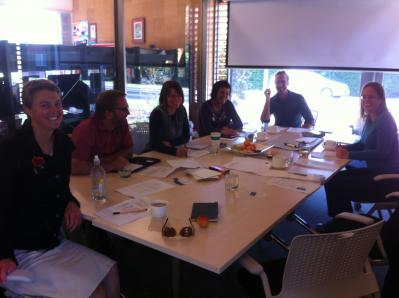 Launch of the Climate Safe House project
In 2016 we launched the Climate Safe House project, a response to sea-level rise in Dunedin and coastal New Zealand. We aim to research, design and construct a New Zealand blueprint.

This is a multi-decade project addressing housing and vulnerable populations as coast lines change as a result of climate change and involves a growing list of partners. From 2016 - 2020 we have four goals:
1. Conduct research into the existing housing stock in flood hazard zones; the perception of flood risk by residents in flood hazard zones, and; plans for a possible future response to flood risk by residents in flood hazard zones.
2. Design and construct a house that is: healthy to live in; affordable; transportable, modular and energy efficient.
3. Engage with students, residents and decision makers
4. Provide a blueprint for future house builders and for other organisations.
If you are interested in helping out, making a donation or sponsoring some part of the project, please be in touch via the Trust office. Tel: 03 4822048 / email: office@brct.org.nz
Our Details

 Subscribe:


Send an email to office@brct.org.nz with 'subscribe' in the subject line.
 

Contact us:


By email: office@brct.org.nz, by phone: 03 4822 048, by snail mail: BRCT, 31 Hill Street, RD2, Waitati, 9085, or come visit us in our offices at the old dental surgery, at Waitati School.
 Donate to us:


We currently rely on donations and grants to provide services to the community, as we work to build a social business. 
Donations are essential to help us continue with our work and are tax-deductable.  Our account is: 389008 0472900 00
See our donate page for details on how else you can donate. 
We have many people and businesses to thank for supporting BRCT so far (see our supporters page).
Save