Home
Welcome to the website of the Blueskin Resilient Communities Trust (BRCT).
We work on creating local climate solutions together. Our company, Blueskin Energy Limited, is working on establishing the proposed Blueskin Wind Farm. We want to make what is commonplace in other countries possible in New Zealand. Our ClimateSafeHouse project is a response to sea-level rise in Blueskin Bay and the wider area. BRCT is an IRD approved charitable trust formed in 2008 out of the need to support local sustainability and climate change initiatives in a planned and structured way.  We offer practical services, provide key support, have robust resources, lead innovative projects and provide expert advocacy. Check out our 2016 projects below and our 2015 success stories at the bottom of this page. 

Community discussion and development

Recent community meetings to provide information on the Blueskin Wind project and the Trust's intentions were well attended. Over two weeks in September we held meetings in Long Beach, Waitati and Warrington. The largest attendance was at the Waitati meeting.
One of the questions we were asked (in slightly different ways) was "why are we doing this?". One of our main reasons for working hard to build New Zealand's first community wind farm is that we want to make a real contribution to combat climate change in our own area. Our small wind farm, if established, will be able to avoid over 7,000 tonnes of C02 per year if this electricity were to be generated from a coal-fired plant or 3,600 tonnes in avoided gas fire generation. The electricity we can produce locally from the wind farm would reduce electricity demand from the national grid, and reduce use of electricity produced through the burning of fossil fuels. We also want to create a revenue stream to enable further work and efforts in our community to both mitigate emissions and adapt to our changing world - to build resilience in effect. We're doing this because we believe it is our moral duty to take action when and where we can and to take ownership of our situation for the sake of future generations.
At the Trust we're busy at work creating local climate solutions together. You can find us on Facebook and Twitter : we like social media! Email us at office@brct.org.nz or call us on 4822048 - we love to hear from you.
Current Project News in 2016 - August/September

Blueskin Wind Development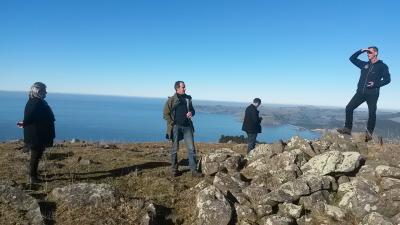 On the 12th of July Commissioner Colin Weatherall released his decision on Blueskin Energy Ltd's Resource Consent application to build a three turbine wind farm on Porteous Hill. Within the decision the Commissioner noted that effects would be no more than minor in regard to:  the wider landscape, the earthworks involved, the noise of the turbines, the ecological effects, the geotechnical effects, the shadow flicker and blade glint effects, the lighting effects, the effects on farming and was not contrary to any policies or plans. Commissioner Weatherall's decision was, as he noted, "finely balanced". However he declined consent primarily because of the visual impact of the northern most proposed turbine on 3 residential properties in Pryde Road.
BEL's directors, and Trustees, carefully considered the decision and as a consequence an appeal was lodged. The appeal will allow us to go into mediation with the Dunedin City Council, and any others who join the appeal, and all of us can sit down together to discuss points of dispute and look at where we agree. The Commissioner accepted all our ecological, noise, landscape and geotechnical evidence and confirmed our understanding that the proposal is a low impact development with positive impact. Many of the concerns expressed by opponents to the project related to ecology, noise, landscape and geotechnical aspects and we are comfortable that we have been able to thoroughly address community concerns on these issues. To go over the appeal and the project in greater detail BEL and the Trust held three meetings in our communities in September. Dates and locations were:
Thursday 22nd September, Long Beach Hall, 7pm
Wednesday 28th September Waitati Hall, 7pm
Thursday 29th September Warrington Hall, 7pm.
We were pleased with the turn-out. We will continue to post updates on the Blueskin Energy website: http://www.blueskinenergy.co.nz/ , on twitter @BlueskinPower and on Facebook and you can call 03 4822048 or call in at the Trust office at Waitati School to visit and find out more about any of our work.
 
From the office
The Trust's Annual General Meeting was held in August in the Blueskin Library committee room. It was our sixth Annual General Meeting (AGM). AGMs are part and parcel of every responsible charitable Trust's statutory duties but need not be boring! This year we anticipated a big attendance, and were concerned that we may not have provided enough refreshments. In the end however we had plenty of refreshments, great discussion and another successful AGM.
Through July there's been great progress being made in a number of areas.
 We've had a boom in Home Performance Assessment work, particularly in North East Valley, just as the cold has hit. We currently have all four Home Performance Assessors busy on jobs and we are picking up some rental properties in very poor condition. Our Assessors conduct a thorough assessment of the house in conjunction with the home owners or occupiers. Their assessment is based on an expert understanding of the science of home performance and ways to improve it. They diagnose any underlying problems and identify any actions needed to address those problems. They then prepare a report on their assessment and prioritise their recommendations to help the home owner and/or occupier to make improvements suited to their situation. You can find out more on the new HPA website. If you want to make a donation to assist our work (and help you can do so in the following ways: Email BRCT at office@brct.org.nz, or Donate using internet banking via the website. Donations are tax deductible so please make sure we have your name and address and can thank you!
 Climate Safe Housing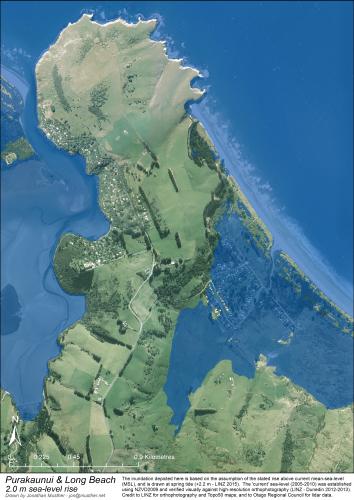 What's it all about? Community, Collaboration and Climate Solutions is the short answer. The long answer is that climate change is real and coastlines are changing. In June 2015, flooding wreaked havoc in South Dunedin. Blueskin settlements like Waitati and Long Beach are at great risk. The Parliamentary Commissioner for the Environment anticipates that sea-levels may be 50 centimetres higher by 2050. The Second Generation District Plan for Dunedin has already designated new high hazard zones. Meanwhile many Dunedin homes lack rudimentary heating or insulation and fuel poverty is rife in our city. What do we do for those people who live in cold, unhealthy, dilapidated homes at increasing risk of flooding or inundation? How do we maintain community in a changing climate and reduce poor health outcomes? We're working on establishing a relocatable home example that will retain community connectivity and provide a model of how we can manage our housing issues and adapt. We expect to launch a website about the project and with our partners in September.

Meanwhile, here is what Long Beach and Purakaunui would look like in a birds eye view, if sea-levels were two metres higher than they are today...
Our Successes in 2015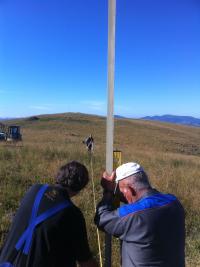 Blueskin Wind Farm Resource Consent application lodged
The Blueskin Wind Project has achieved a significant milestone in 2015 - lodging our Resource Consent application with the DCC after (what was then) six years of hard work. It is supported by excellent science and expert appraisals and the journey since the idea was first proposed ten years ago has been rich and rewarding. It was a significant step, and something that was only possible with extensive local support and pro bono assistance from around the country. Our BEL website has information about the project.
The proposal is for a small-scale energy development on Porteous Hill comprising three turbines on a 24ha title with access Porteous Road and the Kilmog. The turbines will measure about 90 metres to the blade tip, including a 60 metre tower. The wind farm will generate over 7 Gigawatt hours per year - enough power to supply all of the Blueskin community's annual electricity needs, and more.
This idea came from a community workshop in 2006 that led to the  big vision of the Blueskin area becoming a truly sustainable, resilient community. The aim of the Blueskin Wind project is to generate income that can be directed into the things that matter to us while producing clean local electricity. See latest news for updates.
Our Details

 Subscribe:


Send an email to office@brct.org.nz with 'subscribe' in the subject line.
 

Contact us:


By email: office@brct.org.nz, by phone: 03 4822 048, by snail mail: BRCT, 31 Hill Street, RD2, Waitati, 9085, or come visit us in our offices at the old dental surgery, at Waitati School.
 Donate to us:


We currently rely on donations and grants to provide services to the community, as we work to build a social business. 
Donations are essential to help us continue with our work and are tax-deductable.  Our account is: 389008 0472900 00
See our donate page for details on how else you can donate. 
We have many people and businesses to thank for supporting BRCT so far (see our supporters page).
Save